The newest incarnation of the NUDESTIX Lip + Cheek pencil is the newNUDESTIX Gel Color Lip + Cheek Balm ($24 US/$ CAD). I was first introduced to these when we received one at Generation Beauty and I was instantly hooked. I couldn't resist trying it right away (I usually hold out until I can take pictures) and didn't stop using it the rest of the day. I have been loving the new gel formula and glossy finish. I apologize that Posh is not pristine in the following photos, but I do not regret my love affair with this new formula. I am officially obsessed with these and they are definitely my favorite NUDESTIX product they've released to date.
Like the other NUDESTIX products, they come in a beautiful tin with a large, quality mirror on the inside of the lid, and a sharpener that can be used in place of the cap so you always have it on hand. Smart huh! I LOVE these tins because, since you can put several NUDESTIX in one tin, you can use your extra tins for so many handy things. I store my portable phone charger with cable and assorted ends in one for my handbag!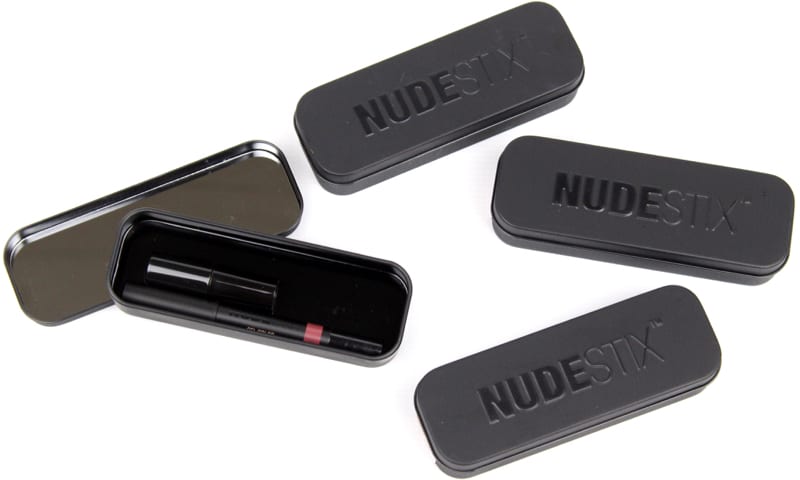 So the new Gel Color Lip + Cheek Balm comes in 8 gorgeous shades. And I really mean GORGEOUS. The four I have are absolute perfection. The gel texture is so lovely on the lips. It gives an ultra glossy finish and plush look. I was expecting these to be more sheer in pigment given they are called a balm, but they are actually really pigmented. They feel so nice on the lips and leave them feeling nicely moisturized. They don't last terribly long but that really doesn't bother me at all. They are so easy to apply and the pencil format means you can line your lips and then fill in for a perfectly shaped pout. The shades are:
Fate – clear but better
Haven – natural lip nude
Luxe – just kissed fresh pink-nude
Posh – metal plum nude
Pulse – pretty plum nude
Rebel – pretty in pink
Siren – a sexy summer lip
Wicked – bad blood
The four shades I have are Haven, Posh, Rebel, and Pulse. They are all so perfect I couldn't possibly pick a favorite.
Because these are a gel balm texture I don't really care for them on the cheeks. They do look beautiful but they have a bit of tackiness since they do have that glossy, gel formula. But I have never really used the NUDESTIX pencils much on my cheeks anyways so I don't mind.
Have you tried these yet? Especially if you are a NUDESTIX fan, you must check them out!
Product provided for my consideration. All reviews are always my own honest and unbiased opinions.