What is your fragrance personality? Whatever it is, you are sure to be able to find a new scent this spring that speaks to you. Why not break away from your "usual" and try something a little different this spring! Here is a categorized guide of some of the many new fragrance releases for Spring 2014. Let me know in the comments which are appealing to you and which you have already fallen in love with.
Lancome La Vie est Belle Eau de Toilette ($85 CAD/50ml) is one of my most worn scents this spring thus far. This fresh and luminous gourmand Magnolia version of La Vie Est Belle is a soft romantic gourmand. The mix of white florals with savoury iris and vanilla make for a pretty, romantic scent that I can imagine anyone not loving.
Top Notes: Bergamote, Pear, Vanilla, Coriander
Middle Notes: Magnolia, Jasmin Sambac, Orange, Almond
Base Notes: Iris, Patchouli, Gourmand Accord, Coconut Milk
Elizabeth and James Nirvana White ($66 CAD/30 ml) is one of two fragrance releases from the Mary-Kate and Ashley Olsen's fashion house Elizabeth and James. It is a sophisticated and feminine musky floral blend of Peony, Lily-of-the-Valley, and musk. It is a gorgeous, modern floral. It also happens to layer beautifully with the other scent Nirvana Black.
Dior Miss Dior Blooming Bouquet ($82 CAD/50ml) is very soft, subtle, and incredibly pretty. This is a very delicate scent radiating around the delicate Peony accord. Sicilian Mandarin Essence and Rose Essence on a White Musk base round out the scent. If you're shy about wearing perfume but long to smell pretty this is the perfect scent for you. I love it.
Marc Jacobs Daisy Eau So Fresh Delight ($89 CAD/75ml) is a lovely interpretation of the original Daisy Eau So Fresh that is fruity without being sweet and cloying. I usually steer clear of fruity scents but I find myself enjoying this one more and more. It's soft, romantic, pretty, and perfect for spring.
Top Notes: Blood orange, pink pepper, white tea
Mid Notes: Tiare Tahiti, violet, raspberry
Base Notes: Apricot skin, musk, amber
Viktor & Rolf Bonbon ($115 US/75ml) was a sweet surprise for me. I am not usually a fan of gourmands but this sweet fruity floral gourmand is too delicious to not fall in love with. I have been finding lately that well done caramel based gourmands are something I enjoy and my aversion to all things sweet is being rehabilitated. It has amazing lasting power and I can enjoy it on my skin even the next morning. The adorable candy wrapper bow shaped bottle ups the love factor of this indulgent scent.
Top Notes: Mandarin, Orange, Peach
Middle Notes: Caramel, Jasmine, Orange blossom
Base Notes: Cedarwood, Guaiac wood, Sandalwood, Amber
Juicy Couture La La Malibu Eau de Toilette ($80 CAD/150ml) is a sweet citrus gourmand that is a bold, fun embodiment of casual LA style.
Top Note:Madarin
Middle Note: Pink Sugar
Base Note: Musk
Elizabeth and James Nirvana Black ($66 CAD/30ml) is one of my favourite fragrances at the moment. It is sexy, edgy, and mysterious. I can't get enough of this intoxicating and sultry woody blend of Violet, Sandalwood, and Vanilla. If you are a hardcore Violet fan as I am you do NOT want to miss out on this amazing scent.
Diesel Loverdose Tattoo is a warm, sweet, oriental floral. This milky vanilla scent hugs you like a warm blanket.
Top notes: Bergamot, mandarin orange and cassis
Middle Notes: Rose, orange blossom and jasmine sambac
Base Notes: tonk a bean, rice, vanilla and milk.
Yves Saint Laurent Manifesto L'Eclat Eau de Toilette ($75 CAD/50ml) is one of my favourite new releases. I am a sucker for white florals and the mix of green with sweet and woody sexiness in this oriental floral scent is unusual and AMAZING. I adore it.
Top Notes: green tea accord, bergamot, neroli and blackcurrant buds.
Mid Notes: Jasmine, freesia, red roses, orange blossom.
Base Notes: Vanilla, tonka bean, sandalwood and cashmere.
Clinique Calyx ($59 CAD/50ml) was an 80's cult favourite Prescriptives fragrance that Clinique has recently introduced into their line. It is a very clean fresh scent that has a very interesting dry down. It opens as a very fresh mix of tropical fruit and citrus. The heart is more of a feminine floral while the base becomes more green and sensual. It's a very unusual, complicated scent that is an adventure to wear. I do find it sometimes smells a bit synthetic but not necessarily in a negative way.
Top Notes : Tagetes, Apricot, Spearmint, Bergamot, Cassie, Peach
Middle Notes Lily, Muguet, Jasmin, Melon, Rose, Cyclamen
Base Notes Musk, Moss, Raspberry, Cedar
Marc Jacobs Daisy Delight ($79 CAD/50ml) is a more vibrant take on the classic daisy scent. It is a playful floral brightened with green apple.
Top Notes: apple, quince flower, freesia.
Mid Notes: iris, gardenia, peony
Base Notes: musks, cedarwood, sandalwood.
Juicy Couture Malibu Eau de Toilette ($80 CAD/150ml) is a lively and fun fruity floral with fun Southern California chic packaging. Juicy Couture Malibu Eau de Toilette ($80 CAD/150ml) is a lively and fun fruity floral with fun Southern California chic packaging.
Top Note:Passion Fruit
Middle Note: Jasmine
Base Note: Musk
Guerlain Aqua Allegoria Limon Verde ($67 CAD/75ml) is bright, refreshing, and perfect for summer. It opens with such a fresh burst of lime you can't help but smile. As it wears on the skin it becomes a little greener with a hint of sweetness. It wears very well for a citrus scent.
Top Note: Lime
Middle Notes: Green notes, tropical fruit, fig and sugar cane.
Base Note: Tonka bean.
Elizabeth Arden Green Tea Yuzu ($40 CAD/50ml) is a very fresh and bright spring scent. While I have never smelled a Yuzu (citrus fruit originating in East Asia) in order to know how well this fragrance represents this particular fruit I must say this is a very lovely citrus scent. I'm not always a fan of citrus scents finding they can sometimes remind me of a floor cleaner or other less than romantic things I must be a fan of Yuzu because the combination of it with the green tea and neroli I find really beautiful.
Top Notes: Yuzu Zest, Sheer Bergamot, Sparkling Lemon, Green Tea Vapors, Lemon Tree Petitgrain
Middle Notes: Yuzu Pulp Accord, Wild Thyme, Spearmint, Black Currant Buds, Green Tea Leaves, Tunisian Neroli
Base Notes: Musk, White Birch, Ambrette Seed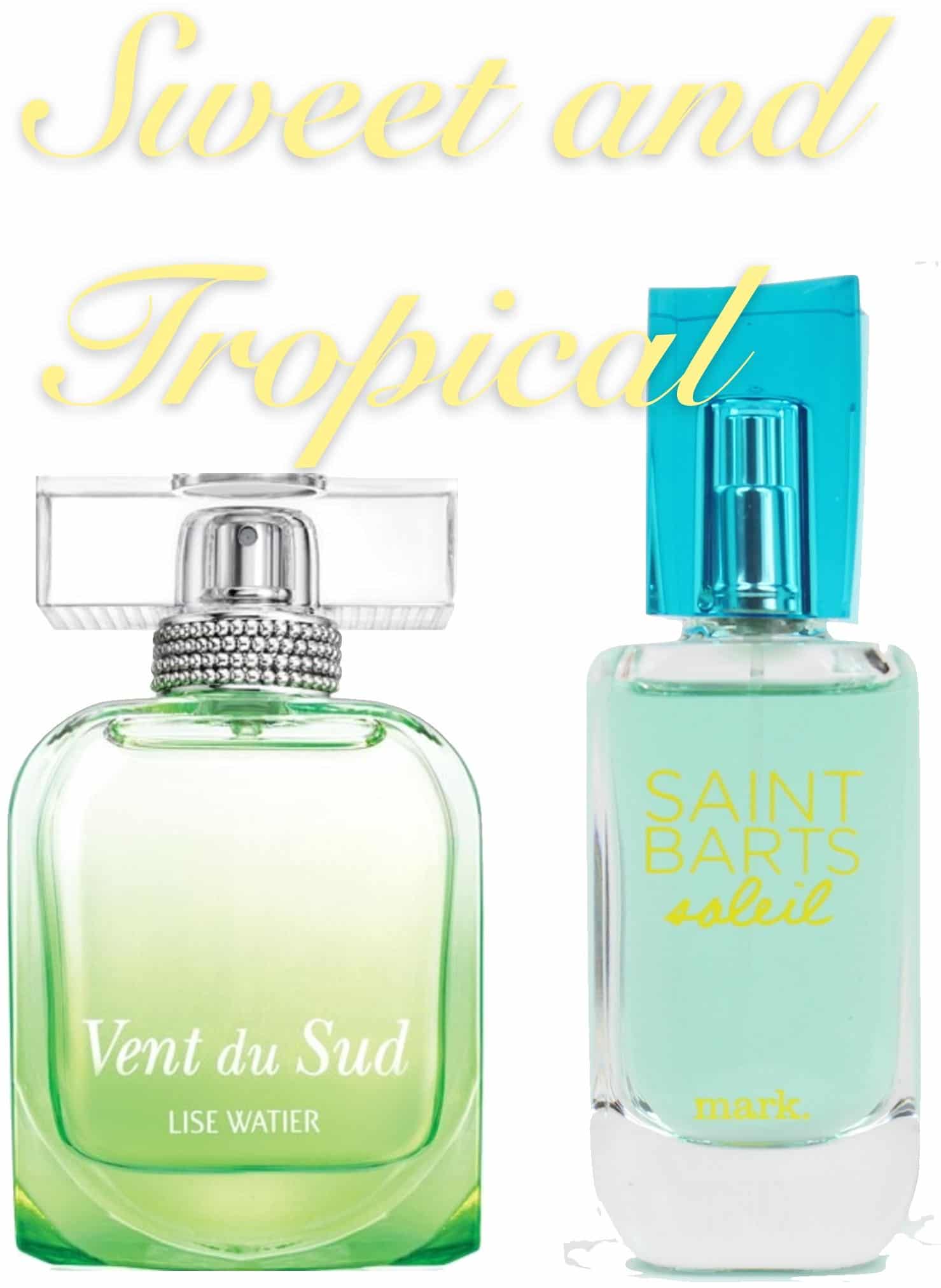 Lise Watier Vent du Sud Eau de Toilette(formerly Bora Bora) ($59 CAD/50ml) may not be a new release but it is an exotic, tropical floral that is ideal for a warm spring/summer day.
Top Notes: Passion flower, Jasmine, Rose
Middle Notes: Exotic fruit cocktail
Base Notes: Amber, Vanilla, Wood-scented musk
mark. Saint Barts Soleil ($24 CAD/50ml) is an "instant vacation" Eau de Toilette. It's a blend of fresh, breezy Caribbean waters; rich, exotic coconut milk and bold, beautiful frangipani flower that takes your senses on a journey to a glam island resort. It makes me feel like I'm sitting on a sandy beach drinking fruity cocktails.
My Personal Top 3:
Shop the fragrances:
Follow Perilously Pale via Twitter | Pinterest | Instagram | Facebook | Bloglovin
Products provided for my consideration. All reviews are always my own honest and unbiased opinions.