MAKE UP FOR EVER has released some new ULTRA HD complexion products. If you are looking for artist level quality and performance then you won't be disappointed with these new launches from MUFE.
The MAKE UP FOR EVER ULTRA HD Underpainting ($42 US/$53 CAD) is a palette of four colour correcting creams. Two to neutralize and two to conceal. There are six colour palettes to choose from:
#20 Very Fair – Mauve brightens sallowness. Light yellow neutralizes redness.
#25 Light – Light green corrects redness. Light peach brightens the under-eye area.
#30 Medium – Olive green corrects overall redness and blemishes. Peach corrects dark circles.
#40 Tan – Dark peach counteracts dark circles with blue undertones. Yellow ochre evens out by correcting overall redness in skin tone.
#50 Dark – Brick corrects deep hyperpigmentation. Caramel neutralizes dark spots for an even complexion.
#55 Deep – Orange corrects hyperpigmentation under eyes or face. Dark brown deepens lighter areas of the skin.
The palette I have is #25 Light. It includes the perfect colour correcting shades for my fair skin. A green to correct redness and a pinky peach to brighten the undereyes. I love that the shades are muted as I usually find colour correcting greens too… well… green. The light concealer shade is a great match for me.
The formula is incredibly light and creamy. Very easy to work with. It layers beautifully under other products and plays nicely with a variety of formulas that I've tried thus far.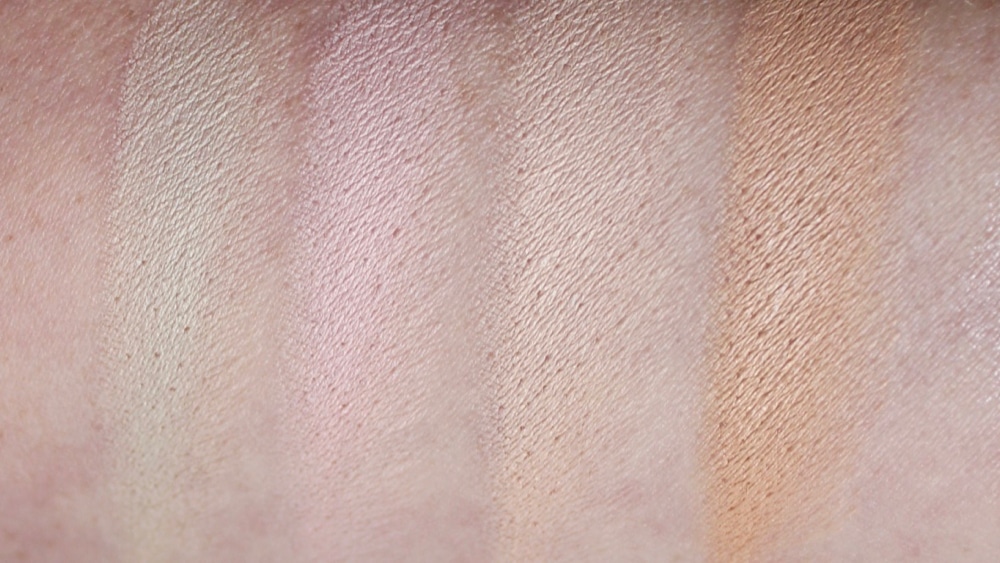 The MAKE UP FOR EVER ULTRA HD Soft Light ($29 US/$36 CAD) is a liquid highlighter. It has a very fluid texture making a perfect product for mixing into your foundation or primer for all over radiance. These highlighters are sparkle free and offer luminosity with pure mother-of-pearl. It is a very natural glow. The swatch below is quite a heavy swatch. You can achieve a really lovely natural and healthy effect with this product at any age. If you like a dramatic highlight you will want to look elsewhere.
There are four shades available:
#20 Pink Pearl (shown)
#30 Golden Champagne
#40 Pink Copper (need!)
#50 Golden Copper
Will you be trying these new launches from MAKE UP FOR EVER. I want to keep these for myself but I think they will have to find their new home in my pro kit.