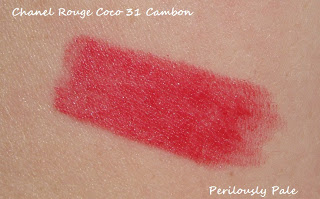 I've already talked quite frequently about my love of Chanel's Rouge Coco formula. This is pulled from a previous review I made:
I love the fuller coverage colour these lipsticks provide and the fact that they aren't overly creamy. I don't care for lipsticks with too much slip that feel like they are moving all over my lips all day. I'm also really happy with the lasting power with this formula. I don't exactly find them moisturizing or soothing as Chanel promotes but they are not drying at all for me either. My lips stay healthy wearing them. Here is the description from the Chanel US website:
CHANEL introduces a modern interpretation of classic creme lip colour as an homage to the rich life and legacy of 'Coco' Chanel. New lightweight lip colour glides on for easy application, and features a Hydratendre complex to help soften, soothe and condition lips – even boosting their ability to hold in moisture – for a plumper, smoother and healthier-looking appearance. A range of wearable shades with full-coverage finishes, from matte to pearl to soft shimmer.
Shade 31 Cambon was my first Rouge Coco purchase and it is also one of my all time favourite Rouge Coco shades. It is a fabulous pink red that I feel comfortable wearing to work or out on the town (of course I never go out on the town hence my wearing it to the office). It wears extremely well leaving a nice stain behind. I would absolutely repurchase this shade should I ever run out. I can't imagine accomplishing this any time soon though as I rotate so many lipsticks!