Blush palettes. I don't know about you but I wish there were MORE of them. There are always so many eyeshadow or even more complete "look" palettes released, but blush palettes seem to be a pretty rare commodity. Well Tarte has answered our prayers with the Tarte Off the Cuff Amazonian Clay 12-Hour Blush Palette. The best part for me…. I had yet to try the Tarte Amazonian Clay blush formula so this palette is PERFECT!
The set comes with a cute gold bow embellished faux leather cuff bracelet wrapped around the compact.
The palette is sleek and compact. I love that there is no wasted space for useless brushes or other frivolities. The compact secures shut with a magnetic closure.
The palette includes 5 shades of Amazonian Clay 12-Hour Blush:
Crave – pink peach. This is a beautiful bright coral pink.
Dazzled – soft rose. A stunning rosewood with very, very subtle shimmer.
Darling – nude pink. A lovely peach.
Dollface – light pink. Gorgeous bright, pale pink.
as well as the Amazonian Clay Matte Bronzer in Park Ave Princess. The bronzer is an excellent contouring shade. It doesn't have any icky orange tones so it works beautifully on fair skin.
The blushes are all richly pigmented. They blend beautifully and they have the most lovely subtle glow to them without shimmer. Dazzled has the tiniest amount of fine shimmer but it is barely detectable.
Swatches in natural light. See how they just seem to meld into the skin. There is no powderiness or chalkiness. They offer smooth and rich colour.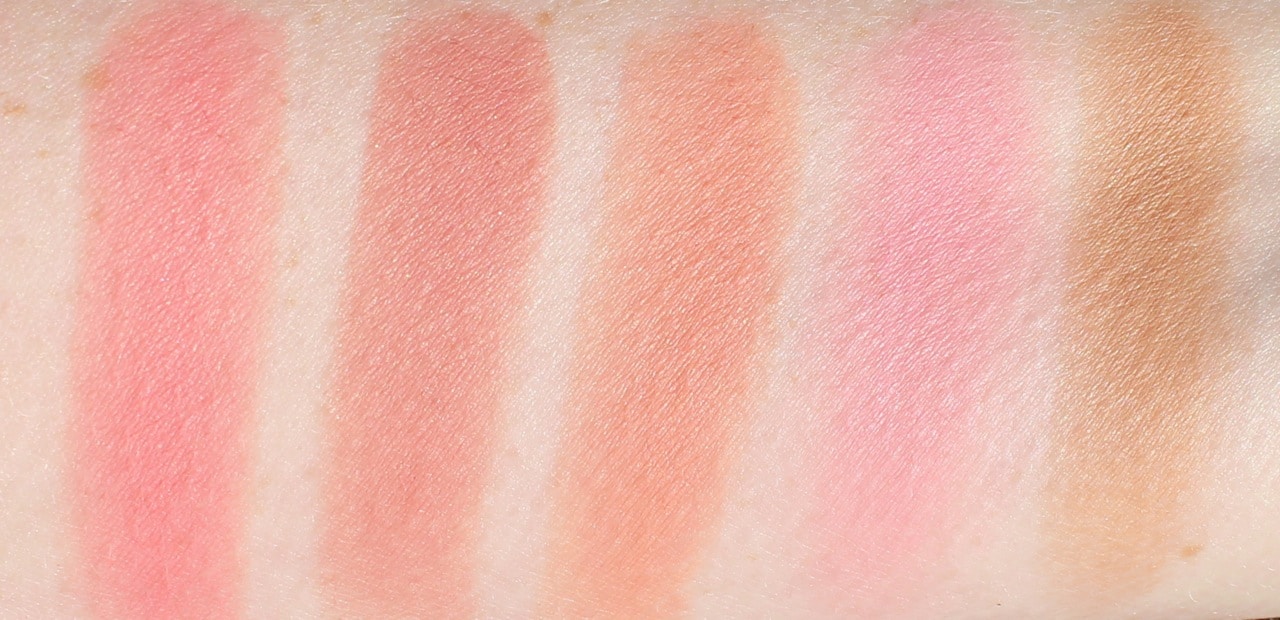 I can't believe it took me so long to try the Tarte Amazonian Clay Blush formula. It really is wonderful and deserving of the hype. This blush palette is outstanding in that it offers a complete range of colours to suit all skin tones and to complete any kind of look. If only it included a highlighter then it would really be complete. I wouldn't want to trade out any of the fabulous shades included but I think it would have been worth the slight increase in price and size to add a highlighter.
The Tarte Off the Cuff Amazonian Clay 12-Hour Blush Palette is limited edition and exclusive to Sephora. Don't miss out on this great deal! It's $132 retail value for only $50 CAD. It is a great gift for anyone trying to build their makeup collection (my sisters name is written all over this), and for all the blush fiends out there!
Follow Perilously Pale via Twitter | Pinterest | Instagram | Bloglovin
Product provided for my consideration. All reviews are always my own honest and unbiased opinions.