I'm pumped about my post today because I have a feeling many of you may not have explored, or even seen, these products before, and I feel so excited to be able to introduce them to you. I have been testing some of the makeup products from Rodial these past few months and I am so pleased with my experience.
Let's start with the Rodial Instaglam Compact Deluxe products. The packaging on these is exquisite. Luxe and heavy shiny chrome compacts with recessed faux leather detailing. The compacts have a mirrored lid and secure with a magnetic closure. There are four products in this range and I have three of them to share with you today.
The Rodial Instaglam Compact Deluxe Translucent HD Powder ($75 CAD) is a pressed translucent powder that mattifies and blurs imperfections. A little goes a long way with this perfecting powder. Like most HD powders make sure you avoid using too much if you are expecting to be photographed.
The Rodial Instaglam Compact Deluxe Bronzing ($75 CAD) is a beautiful warm bronzer that gives you a natural sun kissed glow without shimmer. The powder has a translucent satin matte finish that can be applied sheerly or built up for a more intense tan. I was worried the shade would be to warm but it ended up working fabulously on my fair skin.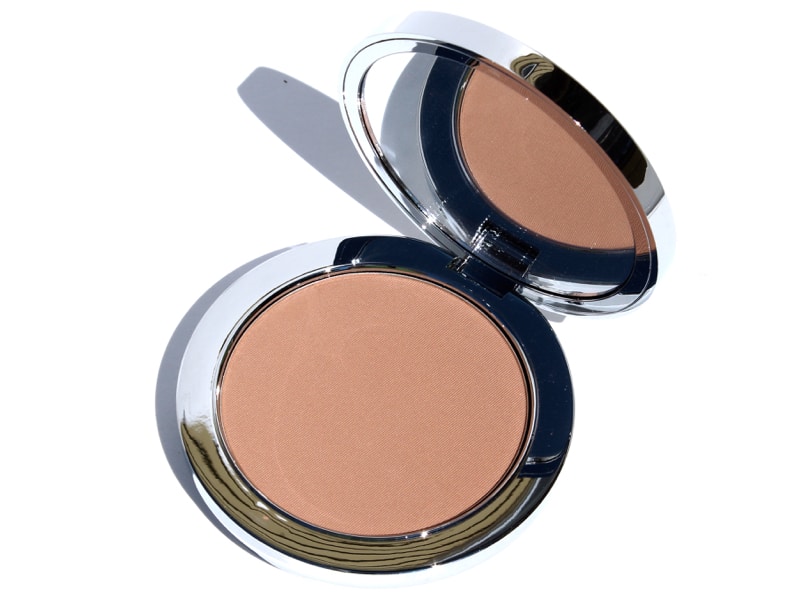 New here is the product I am most excited about. The Rodial Instaglam Compact Deluxe Contour Powder ($75 CAD) is one of the best contouring powders I've used. The shade is perfect. It is a neutral ashen shade with no warmth or shimmer. Exactly how a contour product should be to create a natural, realistic shadow on the skin. It has a translucent satin matte finish that allows you to easily sculpt your face very subtly or build up for more a more dramatic contour.
The fourth Rodial Instaglam Compact Deluxe product is an Illuminating Powder ($75 CAD) (not shown).
Another exciting contouring product from Rodial is the Rodial Eye Sculpt ($34 CAD). This light mousse cream is beautiful neutral brown for contouring the eyes and can even be used on brows.
The Rodial Instaglam Highlighter ($36 CAD) is a click pen style cream highlighting product. It illuminates via it's pale yellow-toned shade without shimmer. Not an effective means of highlighting on someone as fair as myself but this would be a beautiful product on someone with a deeper, warmer, skin tone. It has a lovely light creamy formula that blends into the skin beautifully and doesn't disrupt the foundation beneath.
A quality black eyeliner is a staple for any good smokey eye look and the Rodial Smokey Eye Pen ($21 CAD) doesn't disappoint. This black pencil eyeliner is ultra creamy gel formula and glides on smoothly to the lashline. It offers intense, opaque black pigment and long, smudge-proof wear. It is also available in Brown.
Swatched from left to right; Instaglam Compact Deluxe Translucent, Bronzing, Sculpting, Eye Sculpt, Instaglam Highlighter, Smokey Eye Pen.
Rodial also offers some really beautiful synthetic makeup brushes. I love the sleek black design. The Rodial The Powder Brush ($64 CAD) is a soft, densely packed brush that works great with the translucent powder and bronzing powder.
The Rodial The Eye Sculpt Brush ($28 CAD) is the perfect companion to the Eye Sculpt cream. It performs wonderfully with powders as well. It has the ideal oval shape for contouring the crease as well as the sides of the nose.
Below you will see a photo with a completely blank canvas (thanks to the Marc Jacobs Re(marc)able Full Cover Foundation Concentrate) with contour and colour brought back to my complexion with the Rodial Instaglam Compact Deluxe Contour Powder and Bronzing Powder. The Compact Deluxe Translucent Powder was also used lightly to set.
You can find Rodial products in Canada at Murale and Murale.ca. Rodial makeup should be coming to BlueMercury.com in the US later this month.
Product provided for my consideration. All reviews are always my own honest and unbiased opinions.