Maybelline's Fall 2012 launch brings us 5 new on-trend decadent plum shades of their Colour Sensational Lipstick.
Blissful Berry
Deepest Cherry
Magnificent Mauve
Mauve It Up
Mauve Mania
I have Blissful Berry to share with you. This is actually my first experience with the Maybelline Colour Sensational lipstick formula and let me tell you that you would never know this lipstick retails for only $9.99. I will definitely be checking out some of the other shade offerings to see if they live up to my experience with Blissful Berry.
From the world's runways, plums are the hot new shade for Fall 2012! Maybelline New York's Colour Sensational Plums provide lips with crisper, richer colour from pure pigments and a creamier feel thanks to the nourishing honey nectar. Colour Sensational Plums offer the best wow-worthy plum shades that define and shape lips with a burst of colour that will be sure to get you noticed!
I love the translucent plum purple sleeve that houses the lipstick. It's fun yet classy at the same time.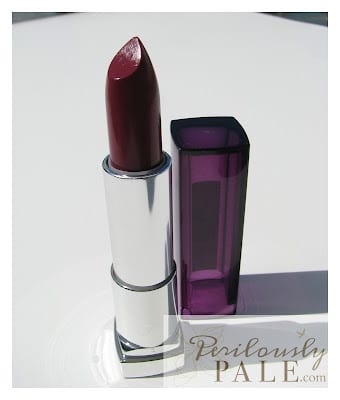 Blissful Berry is a very rich, deeply pigmented berry shade. It applies evenly with no effort and the colour is full on impact but is softened by it's lovely glossy finish. There is no shimmer or sparkle in this shade. This lasted for several hours on me with little fading and wears very comfortably. It even leaves a slight stain to the lips. I did not find it to be drying. My lips stayed moisturized as the lipstick wore off. The formula does not appear to be scented. (I do have a cold though so don't hold me to that!)
These should be hitting stores this September 2012.
Product received by company for my consideration. All reviews are always my own honest and unbiased opinion.