I have recently been on the search for a full coverage foundation that doesn't look cakey and aging on my dry skin. I have long turned to sheerer formulas as I hate looking like I'm wearing foundation. While my skin is fairly clear I have a lot of freckles and a lot of sunspots. I got tired of feeling like I always look unpolished with all these imperfections always showing through. Evening out redness just didn't seem to be cutting it anymore. I was so excited to try the high coverage formulas of Vichy Dermablend Foundation. Vichy recently reformulated their Dermablend Fluid and Stick foundations. They have also added a Cream Foundation to the lineup.
Dermablend was created in 1981 by an American dermatologist, Dr. N. Craig Roberts, whose wife suffered from facial vitiligo (depigmentation of the skin).
This unique technology offers extreme coverage combined with optimum tolerance to instantly and perfectly correct cutaneous flaws, even the most severe.

In 2003, Vichy Laboratories decided to launch the brand to benefit women and men all over the world.
The products I've been testing are the:
Vichy Dermablend Corrective Fluid Foundation ($29.95 CAD/30ml)
Vichy Dermablend Compact Cream ($33 CAD/10g)
Vichy Dermablend Corrective Stick ($21 CAD/4.5g)
The stick has the most coverage (very high coverage), followed by the compact cream (high coverage), and then the fluid (medium coverage). The coverage on the Corrective Fluid Foundation is said to be medium but it is in fact very full coverage. I have been using it as a concealer even on days I go for a lighter coverage foundation or BB Cream. You can apply it more sparingly with a damp sponge though for a more med-full range level of coverage.
I tested all three products in the shade 15 Opal. The Fluid and Cream are a great match for me aside from being a touch yellow. I do like my foundations to be more yellow toned though to cancel out the redness in my skin. For some reason the Corrector Stick was considerably darker, and more peach toned, than the other two products. I haven't really been using it as it stands out quite a bit against my skin tone. It offers excellent coverage though.
I am absolutely loving the Vichy Dermablend Fluid and Cream foundations. They have amazing coverage without looking dry and mask like. The Cream Compact is great for dryer skin as it gives a natural dewy finish that is very flattering.
My absolute favourite foundation routine when I want flawless skin has been to mix the Vichy Dermablend Fluid Corrective Foundation with a pink toned liquid illuminator. This gives more radiance to the rather matte finish of this formula and helps match the foundation better to my skin. As you will see below wearing the Fluid alone does not look as natural on me as when I mix it with my treasured Rouge Bunny Rouge Seas of Illumination highlighter in Sea of Tranquility or Benefit High Beam. By adding a healthy dollop of illuminator to the foundation I still get incredible coverage for a flawless look while giving my dry skin a radiant glow.
Before and After shots. These are foundation only. No concealer or setting powder. I apologize for the scary bare faced shots and almost equally terrifying bare canvas pics.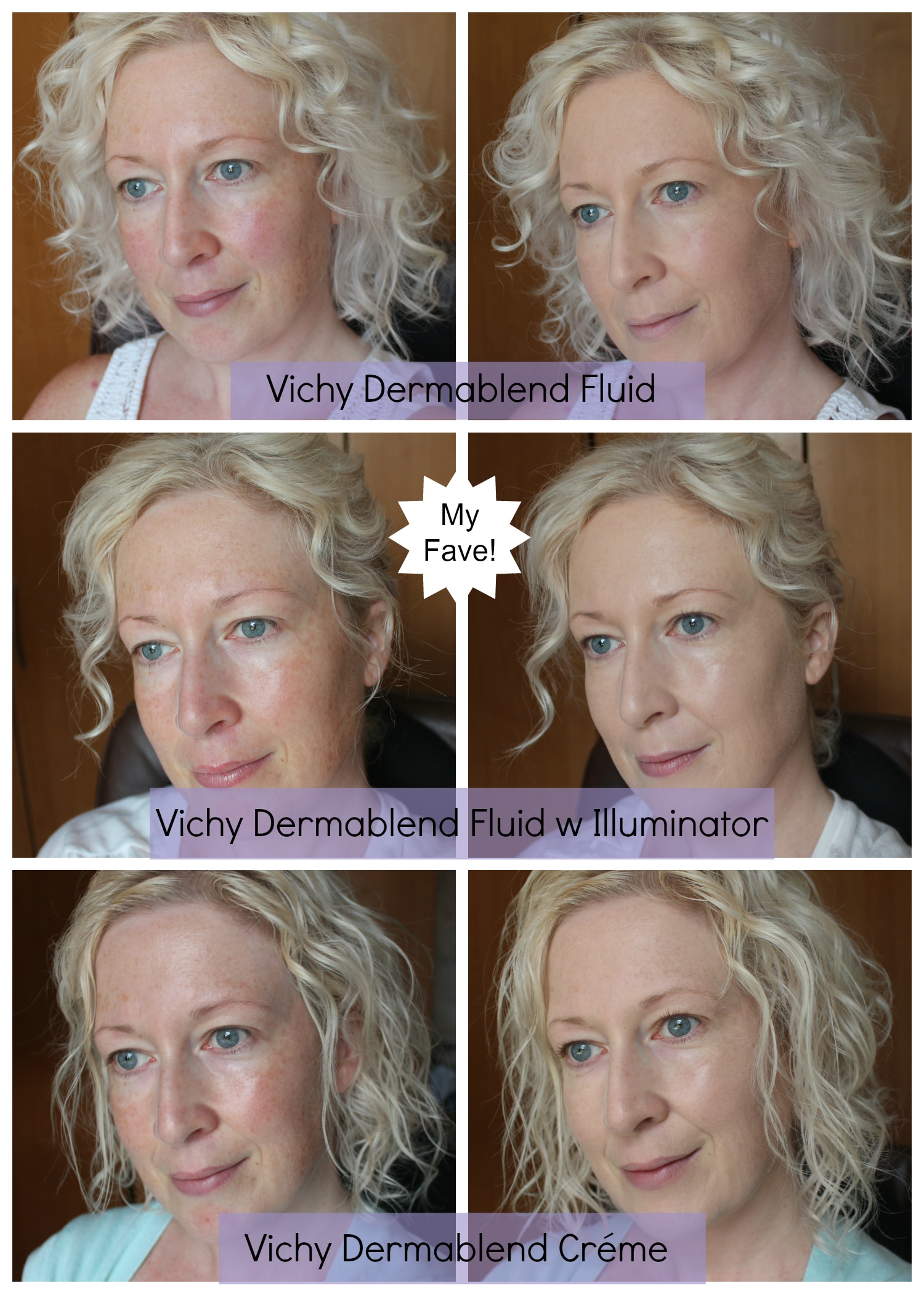 I usually set with a somewhat glowy powder like my sadly discontinued favourite Fresh Face Lustre in Fair Isle or MAC Mineralize Skin Finish Natural in Light. I have never had so many compliments on my skin as I have since wearing this combination the past couple months. I am so ecstatic to have finally found a full coverage complexion routine that I love and that looks relatively natural.
Vichy products are available exclusively in drugstores across Canada. www.vichy.ca.
Product provided for my consideration. All reviews are always my own honest and unbiased opinions.