For Spring NARS is releasing the NARSissist Unfiltered Cheek Palette ($74 CAD) in two colour combinations. Unfiltered I is the darker of the two palettes, while Unfiltered II (shown) is a softer mix of shades. Each palette contains five new limited edition blush shades and one cult favourite shade.
The palettes are beautifully packaged in colourful mirrored compacts with secure closures made from sturdy plastic. Inside is a generous sized mirror.
The Unfiltered II palette includes the following shades:
Conquest – pastel peach (matte)
Undefeated – pale pink (shimmer)
Power Play – vivid pink (matte)
Hot Sand – peach champagne (sheen)
Fame – pink amber (sheen)
Candid – mauve raspberry (shimmer)
All the shades in this palette are new limited edition shades with the exception of Hot Sand which is a re-promote.
The shades in Unfiltered II are very soft colours for the most part. Candid is quite pigmented and requires a light hand on fairer skin. This palette is best suited to those with fair to light skin while the Unfiltered I is targeted more to deeper skin tones. Both palettes are quite versatile though with a mix of warm and cool tones and the inclusion of a highlighter shade in each palette. Conquest is a very pale pastel shade that I was worried wouldn't even show up on my pale skin but it seems to intensify in colour once applied and looks so pretty. I had never tried Hot Sand but now I see what all the fuss is about. I am LOVING this highlight!
The quality of the blushes in this palette are on par with what we've come to expect from NARS. Lovely pigment and a smooth easy to blend formula with flattering finishes. I can see myself getting a lot of use out of this! Even though the inclusion of Exhibit A in the Unfiltered I palette has me a little nervous, I still think I would love to round out my blush collection with that assortment as well. Everything about this collection, including the packaging, is very well curated.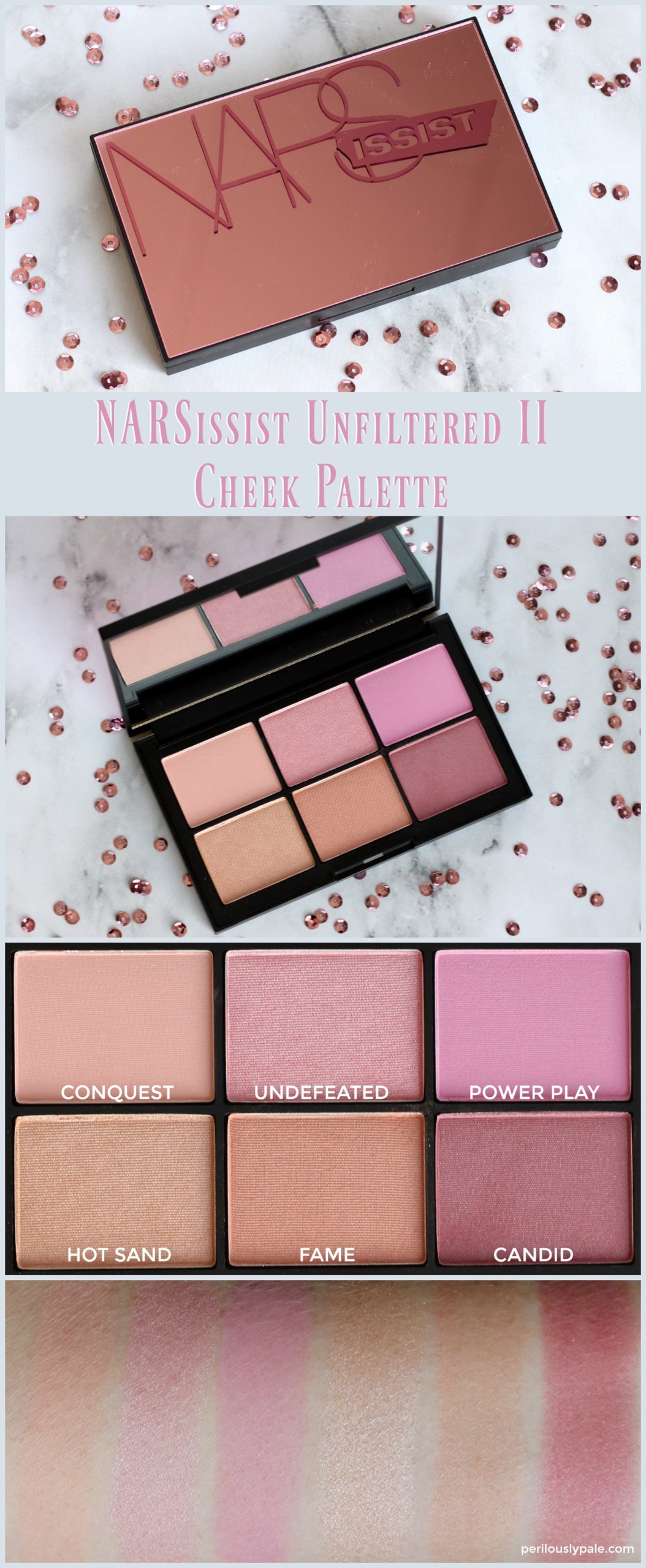 These palettes are exclusive to Sephora and are limited edition so if you see these as something you would enjoy in your collection, don't delay!