I feel like a new woman. I recently experienced my very first spa body treatment EVER. Yes I had never indulged in a spa treatment like this before. I have had maybe two facials in my entire life, and that was the extent of my spa forays. Let me tell you. Everyone needs to treat themselves to an experience like I had at the Miraj Hammam Spa by Caudalie located at the Shangri-La Hotel in Toronto.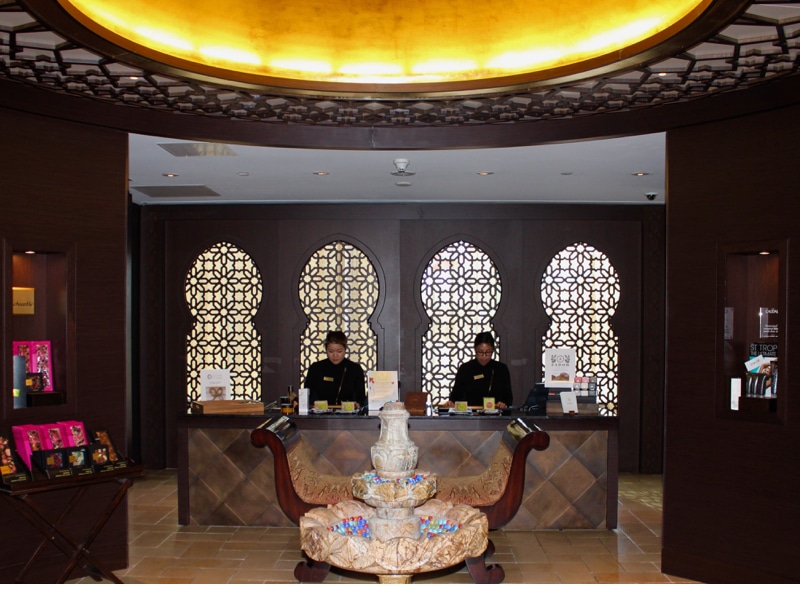 When you first get off the elevator at the Miraj Hammam Spa you are greeted with a warm and inviting decor and intoxicating scents. A lot of spas are decorated in a modern style with soothing, cool greens and blues. I loved that the Miraj was the opposite of what I have come to expect from spas. The old world feel, and middle eastern decor, felt incredibly relaxing and luxurious. The spa's design is architecturally inspired with historical and cultural influences from Paris, Marrakech and Istanbul and it made me feel like I was having a mini vacation in the heart Toronto.
I received the Divine Body Treatment ($175 for 60 mins). It is described as a luxurious body scrub treatment based with sugar, hibiscus, sesame seed and grape seed oil to exfoliate and nourish the skin. This treatment is complete with a 30 minute relaxation massage for the ultimate relaxation experience. The treatment began with a full body massage using the most incredible smelling sugar based body scrub. From the tips of my toes, to the tips of my fingers, I was vigorously rubbed with the Caudalie Divine Scrub which was a heavenly massage in itself. My thoughts that it was silly to splurge on a treatment such as this, because I have lovely body scrubs at home, was so far off base. Sure I could use a body scrub on myself at home but the experience is in no way the same. Firstly you can't expertly massage your own body with both hands, let alone reaching every area. The experience of having the scrub massaged into my body was so amazing. My whole body felt alive as the dead skin was buffed away and my circulation was awakened. They also are so generous in their application of the scrub.
After the exfoliating massage I got to utilize the lovely rainfall head shower, that was located right in the treatment room with me, to rinse off the scrub with a invigorating hot shower. Then it was time to complete the treatment with the relaxation massage during which the lovely Divine Oil dry oil from Caudalie was massaged into my body. My full body was treated to this relaxing massage complete with a scalp massage. I felt like a pool of contented mush after my treatment. It was so wonderful. I decided to enjoy my relaxed state, and the beautiful ambiance of the spa, a little longer by hanging out in the lounge area again after my treatment and enjoying some grapes and tea. There are the cutest little nooks with pillows to hang out in while you await your treatment.
It has been a week since my treatment and my skin is still so soft and smooth. My body care products have been so much more effective as they've been absorbing much better into my skin since my dry, dead winter skin has been sloughed away.
So trust me, even if you always thought treatments like this seemed frivolous, you deserve to indulge in a treatment at the Miraj Hammam Spa by Caudalie. Why not schedule a girl's spa day, or even better, put it on you Valentine's Day wishlist!
Product provided for my consideration. All reviews are always my own honest and unbiased opinions.