I love when Maybelline comes out with these ColorSensational Lipstick Collections with the coordinating translucent packaging. It just always looks so pretty! The latest collection, Maybelline ColorSensational Rebel Bloom, is all about pastels. When I think Spring I think pastels and Maybelline's mission with Rebel Bloom is to revolutionize pastel lipsticks by setting aside the washed out, pale, dull pastel lippies of the past and bringing life and brightness to pastels with their Color Bloom Technology. The shades have a white base for more punched up colour.
There are 8 shades in the collection.
700 Barely Bloomed
705 Blushing Bud
710 Petal Pink
715 Hibiscus Pop
725 Lilac Flush
735 Rose Flush
740 Coral Burst
745 Peach Poppy
The formula is infused with Honey Nectar. It is nice and creamy without being all slippy (which I can't stand). The texture is light but gives good coverage with a small amount of translucency. They have a cream finish with a subtle gloss. I loved that even the pale shades didn't look chalky or off as pastel lipsticks tend to do.
My lips were really dry when I swatched these yet they still looked really nice on the lips. I swear my lips actually seemed healthier after applying and wiping off all 8 shades for swatches. Surely impossible but it felt that way! I swatched them in the order pictured below so maybe you'll be able to see what I mean. I haven't tested all 8 shades for wear time (I'm a pretty useless representation of average wear time anyways because I always manage to eat? all my lipsticks off in record time) but I have wore more than half of them with impressive results. Just this morning Barely Bloomed lasted through 2 cups of coffee. It was probably halved in intensity but the coverage was still even. That really blew me away. I certainly wouldn't refer to them as "long wear" lipsticks, nor are they marketed as such, but with such a lovely light texture I was really surprised that they last as well as they do.
Some of these shades will of course still require some balls to wear, but even the paler shades are quite flattering. If you had trouble managing the intensity of some of the lighter shades in the Maybelline ColorSensational Vivids line then you will have a much easier time flaunting these.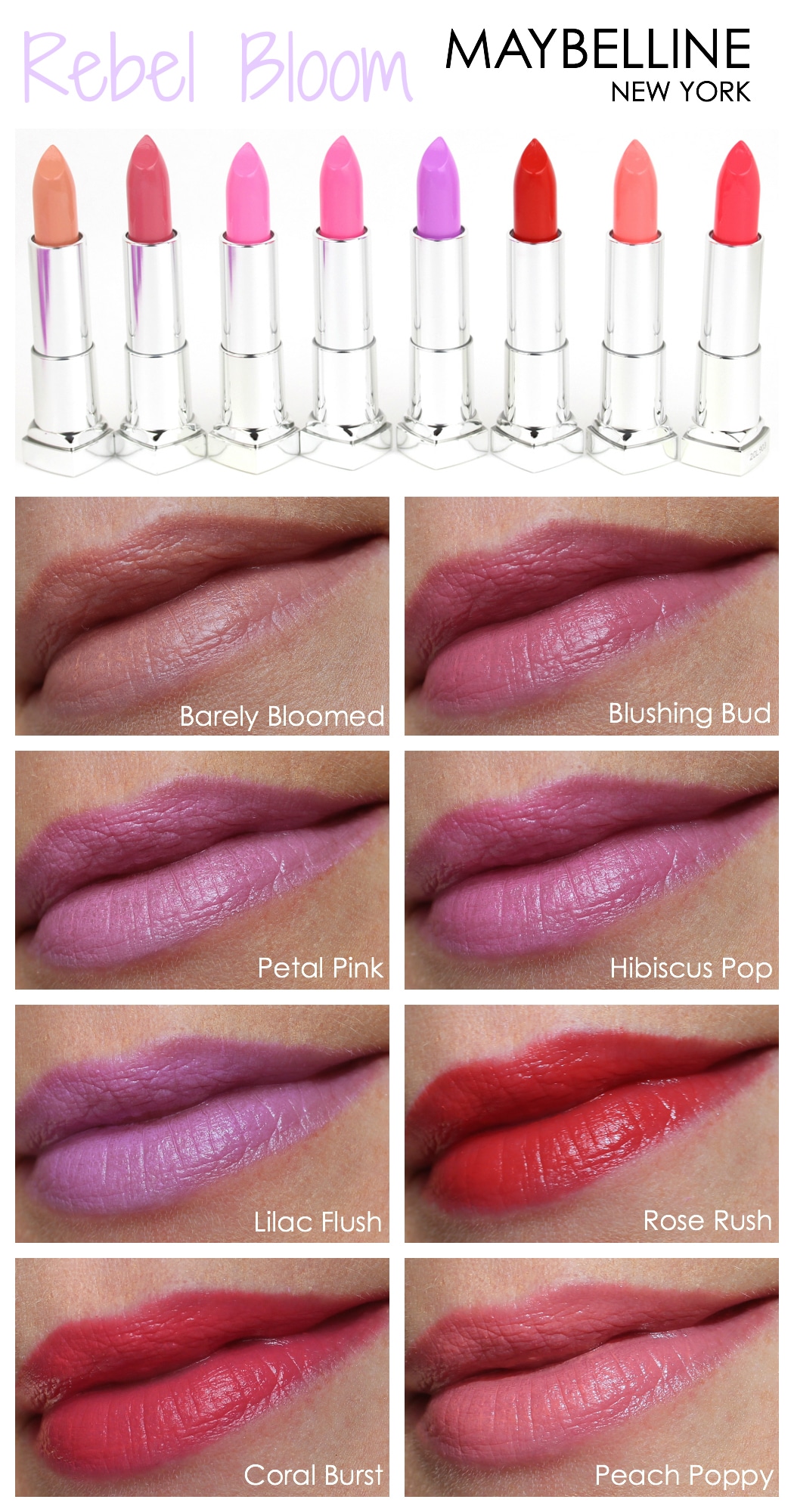 Overall I have to give these a thumbs up. I have always been a big fan of the ColorSensational lipsticks, and I am not one to fawn over drugstore products easily, and these new Rebel Bloom shades are beautiful addition to the line.
They Maybelline ColorSensational Rebel Bloom Lipsticks will be available January 2015 at drugstores and mass market retailers for an SRP of $9.99 CAD. Nothing in my press material suggestions they are limited edition so hopefully they will be sticking around.
Product provided for my consideration. All reviews are always my own honest and unbiased opinions.