I am not a fan of the ultra long wearing, ultra matte liquid lipsticks that the market is being completely saturated with at the moment. I find them unflattering, uncomfortable, and unappealing. While I hope this trend dies a swift death there are some brands that are taking the whole liquid lipstick craze and doing things right. The new Marc Jacobs Beauty Le Marc Liquid Lip Crème ($30 US/$38 CAD) is a prime example of how amazing a liquid lipstick can be.
While I can't tolerate the crazy drying long wear liquid lipsticks, I also can't handle the anxiety of wearing an intensely pigmented liquid lipstick that is so slippery it ends up all over my face and anything I come close to. The Le Marc Liquid Lip Cremes are delightfully creamy but then they set to a satin matte finish that is very long wearing.
On first application the formula is opaquely pigmented and has a creamy yet lightweight feel. It is very easy to get an even and full coverage application on both lips without even having to dip into the tube again.
For the first maybe 30 mins of wear there is a good amount of transfer onto cups etc. yet somehow it doesn't lessen the impact of the product on the lips. Once the lipstick is fully set, and any excess has been removed the transfer is very, very minimal. I get about 5-6 hours of wear out of these before I feel the need to reapply. And even then they don't look bad because they wear off evenly and still leave some colour coverage behind.
The formula contains collagen and Brazilian cupuaçu that feels cushy and comfy on the lips. The formula is moisturizing enough that I don't feel any dryness after a full days wear. They are matte but have enough of a satin sheen that lips look healthy and plump. It doesn't exaggerate lip lines or leave lips looking dry or cracked.
There are six beautifully curated shades in the range:
Yours to Try – light buff
Fawn Over Me – peach nude
Truth or Bare – medium dusty rose pink
Shush, Blush – deep pink
Slow Burn – creamy nude rose
Hot Cocoa – cinnamon cocoa
I am completely blown away with this formula and have been wearing these a ton since receiving them. I had heard such wonderful things about the formula and I am so excited that my high expectations for Marc Jacobs Beauty were met. I highly recommend these. Unless you have zero tolerance for any lip product transfer whatsoever, I can't see you not loving these Lip Cremes. The colour selection is gorgeous and so universally flattering. With the exception of Yours to Try which is just has an odd tone to it in my opinion. At least against my skin tone. My favorites shades are Slow Burn, Truth or Bare, and Fawn Over Me. Oh heck, Shush, Blush too!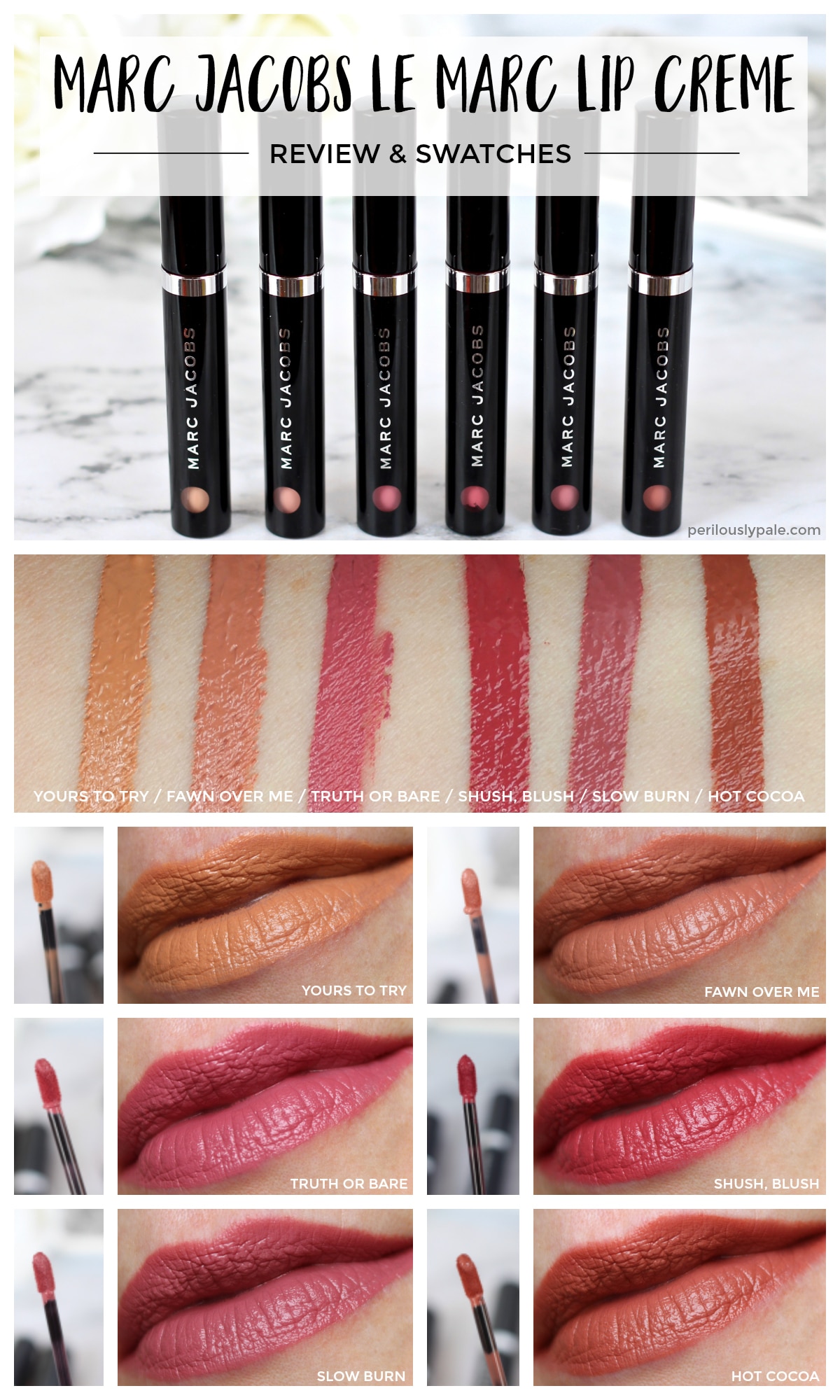 The formula also happens to be stunning. The sleek, weighty black tubes with chrome accents are very luxe and the windows through which you can see the actual product within is so handy when trying to find your shade.
Available at Sephora, Neiman Marcus, and Bergdorf Goodman as well as select Marc Jacobs stores.
Shop the post: