The new Guerlain Palette 5 Couleurs ($69 CAD) are exactly how you do a smaller eyeshadow palette well. So often with quads and quints I find myself still having to dig out another eyeshadow or palette to complete my eye look. These new 5 shade eyeshadow palettes are designed to offer you all the shades you need to create a variety of eye looks from natural to smokey. The far left of the palette starts with a base shade, the centre of the palette offers mid tone hues, and the dual shade wider pan on the far right gives you two deeper shades for contouring and smoking out your look.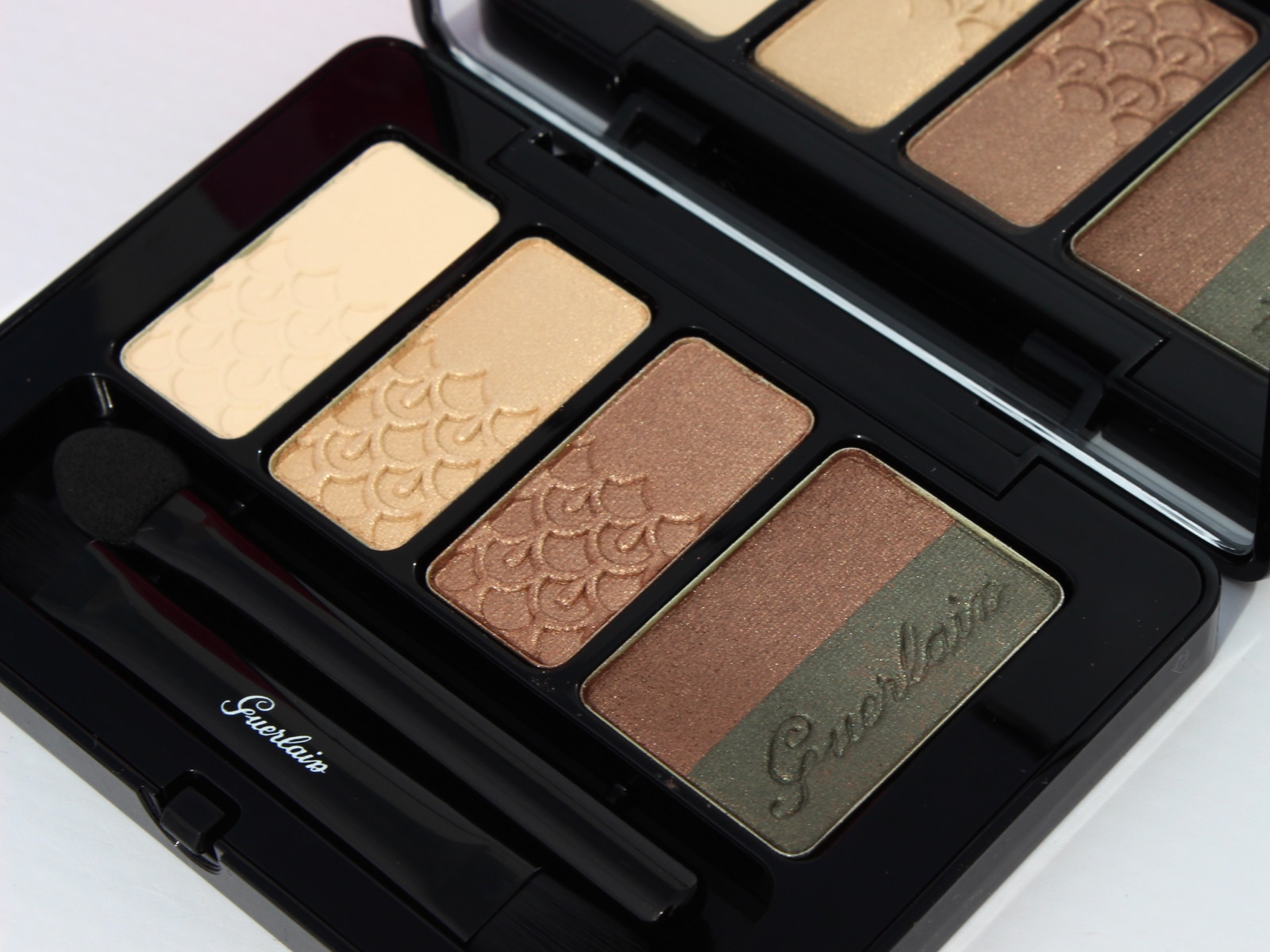 The sleek black packaging with gold accents is so luxurious looking. I really love Guerlain's new packaging!
There are six shade combinations available. Each palette includes a mix of finishes ranging from matte, to satin, to metallic. The palette I have is 03 Coque d'Or. It is a gorgeous mix of warm gold and bronze with a touch of deep smokey green. The far left shade is a beautiful matte ivory for use all over as a base. The next two shades have more of a soft metallic shimmer finish. The dual pan deeper shades have a satin finish. They both blend out beautifully into the crease so I didn't find myself missing having a matte crease shade included in the palette.
The other available palettes in the range are:
01 Rose Barbare – shades of eggplant
02 Tonka Impériale – shades of brown
04 L'Heure de Nuite – shades of black
05 Apres l'Ondée – shades of blue
05 Bois des Indes – shades of taupe
Here is a look featuring all the shades in the palette. I really, really love it. The shadows lasted all day for me without fading or creasing. The pigmentation on these shadows doesn't seem very impressive when swatched but they perform beautifully on the eyes. The second shade (soft gold) has a sheerer, translucent sort of finish which makes it more suitable a browbone hightlight than for the lid. The far right green shade swatches quite poorly yet manages to build up easily on the lid for definition. The remaining three shades have good pigmentation.
Also shown in this look is the new Guerlain L'Art du Trait Felt Eyeliner ($48 CAD). I'm not a big liquid eyeliner girl since I have hooded lids and a wing is just out of the question for me. Also I find liquids can give a less the perfectly sharp line across my slightly crinkly lids. This liner however was a real dream to work with. It does apply very smoothly and I even did a wee tiny baby wing. The formula is water resistant as opposed to waterproof. I did find I experienced some transfer from my upper waterline along the inner corner to my lower waterline.
Have you tried any of the new Guerlain Fall 2016 launches? What are your favorites?