The Giorgio Armani Ecstasy Lacquers ($43 CAD) from the Giorgio Armani Holiday 2016 Night Life Collection are such a unique and gorgeous lip product. If I had to try and compare them to something, I would say they have a similar formula to the YSL Glossy Stains, but with less of a staining effect. They perform the same magical setting action, where the colour seems to adhere vehemently to the lips, while a clear glossy top coat rises to the top. This gives you full colour coverage, with the intense shine of a gloss, that somehow manages to not transfer. The only transfer you will experience is a bit of clear gloss while the colour stays on the lips.
The formula combines water, colour, glycerine and intense pigments for long lasting, glossy wear. While the glossy stains can be built up a bit, I found these tended to get a bit gummy if I built them up to much. They have amazing pigmentation so one layer is really all you need anyways for full impact, and gives you the most comfortable wear.
The Ecstasy Lacquers have a sleek, tapered doe foot applicator which allows you to apply precisely without the need of a lip liner.
There are six new shades for the holidays ranging from nudes to bolds. They have the most stunning ultra-fine shimmer. There is a very concentrated amount of this shimmer, but it's ultra refined texture gives the lips a luminous, plump finish rather than looking frosty. Just look how pretty they are!
N°507 – powdery pink
N°202 – iridescent beige
N°203 – iridescent brown
N°204 – lacquered ebony brown
N°508 – warm pink
N°509 – pink tinged with red
I have a beautiful assortment of the shades to introduce you to today. 507 is a soft iridescent pink. I was concerned, at first glance, that it would be too pale and frosty but it gives a gorgeous healthy pink glow to the lips. 509 is a such a lovely colour. The red tinged pink rides the perfect balance between mid-tone and vibrant making it such a flattering shade, and I think quite universally pretty and versatile. 203 is a bit trickier to pull off. I am actually quite surprised by how pretty I found this deep iridescent brown tone to be, but I found it difficult to achieve an even application with this colour. I think on a deeper skin tone, and more pigmented lips, it will be a lot easier to wear.
Swatch time!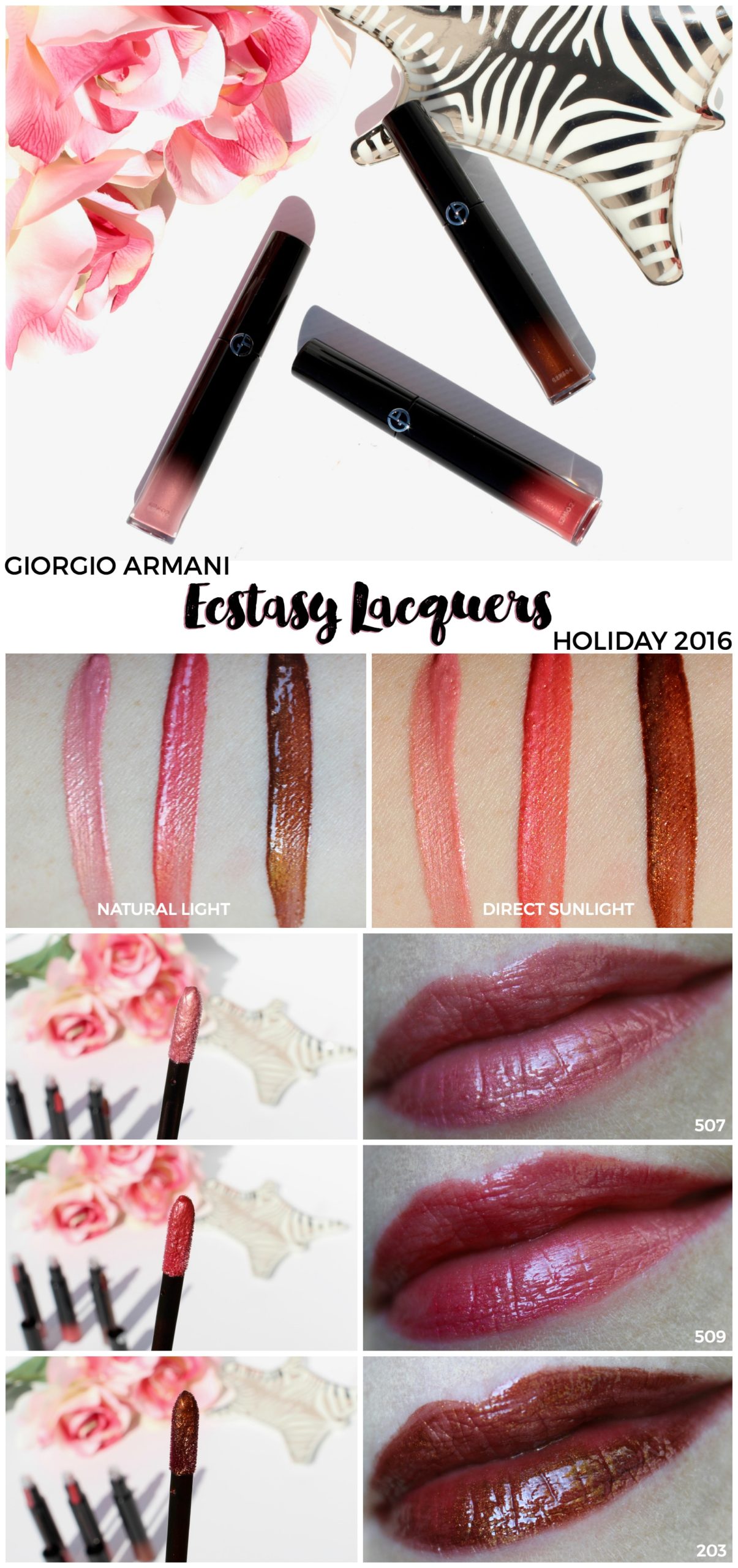 Are you a die hard matte lip girl or are more glossy products like this more up your alley? This is the kind of lip I love!