Cool toned eyeshadow lovers rejoice! I have been jonesing for some more cool toned eyeshadows that I can turn to in my collection and Fenty Beauty by Rihanna has answered my craving with her new Fenty Beauty by Rihanna Snap Shadows Eyeshadow Palettes ($25 USD/$33 CAD).
My fair skin tone is cool toned but it leans pretty neutral. Because of that I can wear very warmed toned eyeshadows and they do accentuate my blue eyes. But I get tired of always wearing browns. While I love what copper and bronze can do for my eye colour, it's the cool shades that I'm obsessed with when it comes to my hair and my clothing. It only makes sense that that carries through my makeup look. But tell me it's not just me? Finding cool toned eyeshadows, let alone palettes, is difficult! Not to mention a lot of shades that appear to be cool toned in the pan end up pulling warm on my skin. The market is so over-saturated with warm toned neutrals and even more so these last several years with heavily warm leaning palettes. I needed some more cool toned pretties in my life stat!
Fenty Beauty by Rihanna Snap Shadows Eyeshadow Palette Review
As soon as I saw the new Fenty Beauty eyeshadow palettes I was excited to try them. I became even more excited when I could immediately pick two distinctly cool-toned palettes out of the promo images. Thank you Rihanna! Two of the eight palettes available are cool toned and they pair perfectly together. And given the fact these palettes are designed to snap together to create your own custom combinations I excitedly headed to Sephora when I was in Toronto on the weekend to check them out. I was not disappointed! Plus you get a discount (2 for $45 USD/$59 CAD) when you buy two palettes so of course I had to get both.
The Fenty Beauty by Rihanna Snap Shadows Mix & Match Eyeshadow Palette in 2 Cool Neutrals and 6 Smoky are quickly becoming my go-to shadows for both everyday and night out looks.
Fenty Beauty 2 Cool Neutrals Palette
2 Cool Neutrals is a palette of cool toned classic shades. The six shades are:
U There? – pink champagne shimmer
Wife it Up – matte mauve
Risky Richez – taupe shimmer
Uppaclass – pink shimmer
Hey Aunty – bright purple frost
Gettin' Toasty – matte deep cool brown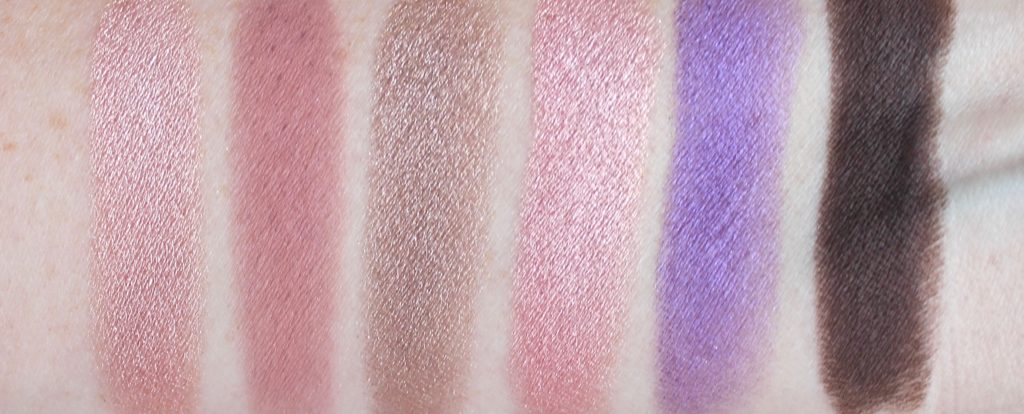 Fenty Beauty 6 Smoky Palette
6 Smoky is a palette of smoky essentials. The six shades are:
That Deep? – matte black
Chestnutz – matte deep cool brown (very similar to Gettin' Toasty but a bit greyer in tone.
You Up? – rose gold shimmer
Second Date – deep indigo with gold shimmer
Patti Cakez – dark plum frost
Tan Linez – matte medium taupe
I love all of the shades in both of these palettes. It's so refreshing to not have any "disappointing" shadows in a palette or ones that don't seem to quite fit the color story.
I love that all but the pastel palettes in the collection have a mix of mattes and shimmers. The mattes in both of these palettes are buttery soft and smooth and blend beautifully. The black in the Smoky palette has a much drier texture to the touch than all the other mattes but thankfully the color payoff is still there and it works well on the eye.
2 Cool Neutrals Look
The shimmers are all richly pigmented and look amazing. I adore them all. Hey Aunty, the bright purple in the Cool Neutrals palette, has a sheerer texture than all the other shadows. I actually really like this though because it gave me the ability to layer it over other shadows in a really beautiful way. It also can easily be built up to fuller color payoff all on it's own.
Second Date in the Smoky palette is a really unique shadow. It's stunning. I don't normally wear any blue shadows but I'm going to have to change that because the dimension and effect of this shadow it truly gorgeous. It makes for the most interesting smoky eye.
Overall I'm really impressed by these shadow palettes. I really love that they come in smaller palettes of 6 shades to give you the ability to customize your own combos, rather than buying a palette of 12 or more shades and having many shades in it you'll never use.
The packaging is beautiful. Slim, sleek with no wasted space and perfect for travel. I can't see needing to add more warm neutrals to my collection but I must admit the other palettes are calling my name. Especially the all metallic pastel palette. Mmmm yummy!
What are your thoughts on these new palettes? Have you picked any up yet?
2 Cool Neutrals + 6 Smoky Look
Pro Filt'r Hydrating Longwear Foundation Thoughts
PS: I wanted to add in a little review of the Fenty Beauty by Rihanna Pro Filt'r Hydrating Longwear Foundation. I picked up samples of a couple of the shades of this foundation during my visit to Sephora. I have dry skin and I'm always looking for new hydrating formulas to try. I wouldn't normally review a product based on just a sample, hence my just adding it on to this review, but I wanted to share my experience here because I was so surprised. I strongly encourage you to try a sample of this foundation before purchasing it.
I wore this for a couple of days in a couple of different shades with a couple of different primers and setting powders and the results were always the same. Horrible. I actually said to my husband that I think this may be the worst foundation I've ever tried. I mean it's probably not actually the worst but given my high expectations of it, it does feel that way. It emphasized my dry skin more than even any matte formula I've ever tried. It separated on my skin almost immediately and even broke up and looked bad on my cheeks/jawline. An area where foundation would normally always stay looking pristine even while my t-zone or areas of the face with more movement may start breaking down. It disappears off the skin and moves around on the skin with even the lightest touch. It was shockingly bad. So heads up if you're excited to try this new formula. Looks like I'll be sticking to my holy grail Face Atelier foundation for now.