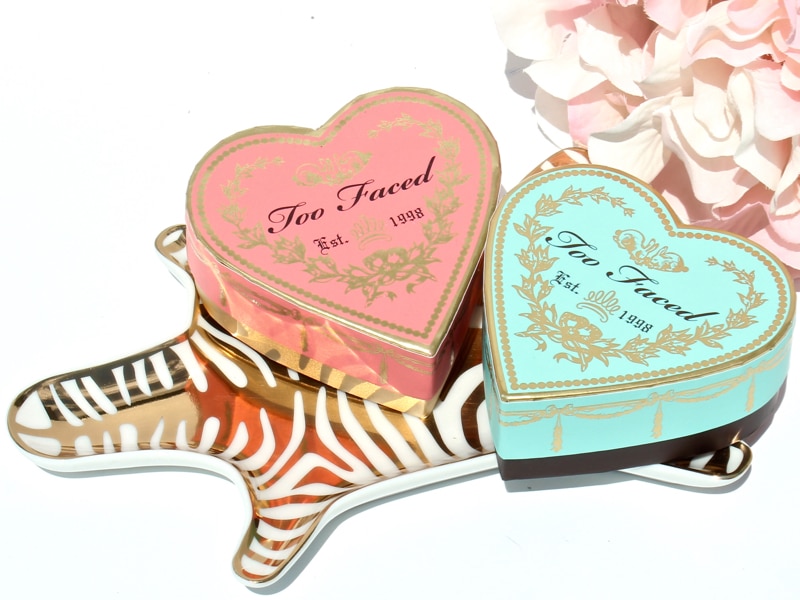 I'm excited to start sharing some Too Faced Summer 2016 Collection pretties with you today. I couldn't help but start with these gorgeously packaged, and too cute for words, Too Faced Sweethearts Perfect Flush Blush in Sparkling Bellini and Too Faced Sweethearts Bronzer. They come packaged in deep heart shaped cardboard boxes adorned in gold. Perfect display pieces. Inside the blush and bronzer are breathtakingly pretty.
The Too Faced Sweethearts Perfect Flush Blush in Sparkling Bellini ($30 US/$38 CAD) is a heart shaped, baked blush with three stripes of colour in a single pan. The shades are soft orange, medium orange, and medium pink. Sparkling Bellini is the perfect name for this colour combination! It looks just like a tasty Bellini! Sparkling Bellini is a new shade for summer and joins the other three available shades in the Sweethearts Perfect Flush blush range.
There is a sparse gold sparkle through the blush but I find most of it is easily tapped off the brush and you are left with a glowing sheen to the cheeks with no visible glitter. The stripes are wide enough you could manage to pick up just one shade at a time with the right brush, but I prefer the beautiful coral shade achieved by swirling all the colours together.
The Too Faced Sweethearts Baked Luminous Glow Bronzer in Sweet Tea ($30 US/$ CAD) is a new bronzer from Too Faced and is currently available in this one shade. And let me tell you, this shade is perfect! It is the most stunning neutral bronzer. There are no orange tones or redness. Just a perfect neutral bronze shade. I am obsessed! I usually prefer matte bronzers but the luminous finish of this bronzer is so pretty.
The left shade is lighter, and a bit more luminous, than the shade on the right. You could create a sculpted look by using the deeper shade to contour the face and highlight with the paler bronze. My favourite is the two shades swirled together. This formula is very pigmented but easy to work with to apply a sheerer application.
I would have probably passed these by as, for reasons I'm not consciously aware of, I usually shun baked beauty products. These two beauties have me reconsidering my aversion. They are absolutely gorgeous!
Have you picked up any Too Faced Summer yet? Did you get your hands on the infamous Sweet Peach palette?
Shop the post:
Product provided for my consideration. All reviews are always my own honest and unbiased opinions.