I don't know why but as soon as I saw the Dior promo pictures for the Golden Jungle Crocodile Leather Effect Nail Duo I just had to have it. Weird since I had NEVER tried a crackle polish. I know crackle has been all the rage for a while now but it just never appealed to me. I had no interest in trying it. This deep khaki green over shimmering gold with the crocodile skin effect just looked lovely though. Crackle and all! I had no idea when I would make it to a Shoppers Drug Mart or The Bay to pick a set up and worried about it selling out so my lovely friend picked it up for me and mailed it to me. Thank you!
Now being my first attempt with crackle I wasn't exactly skilled. There are instructions included which specified applying the top coat no more than 2 mins after the base to make sure it wasn't completely dry so I just did one hand at a time. The application of one even layer of the top khaki coat is where the trouble came in. I had a heck of a time. The first hand I did too thick. Second hand I did too thin and the streaks remained even after the crackle effect appeared. It is not a very self settling polish and getting it thin (but not too thin) and even is quite difficult. Luckily it is pretty quick to do. One coat of gold is enough. It is a bit sheer but since you are going over it anyways it's no big deal. Then just one coat of crackle and wait. After I was absolutely sure it was dry and done "crackling" I added a top coat.
Left hand: Fail! Too thick and crackled oddly.
Right hand: Getting better crackle wise but notice the sheer patches.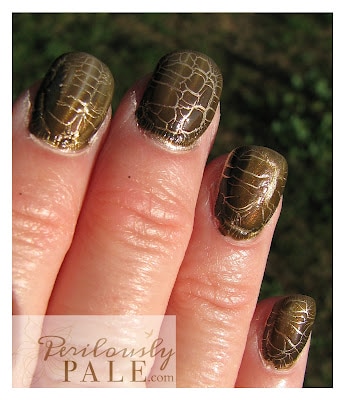 Second attempt: Success!
Now from what I hear this is not available in the US. Correct me if I'm wrong please. I have no idea why they would choose not to release it in the US? I believe the Canadian retail price is around $30.