The 5 Couleurs Dior Fall 2014 Collection is all about the House of Dior reinventing the 5 Couleurs Dior Palette. The 5 Couleurs Palettes are wardrobes for the eye with key pieces and accessory shades. The centre shade of the palette is the essential shade that sets the tone for the look. The palettes contain both complementary and contrasting shades for a variety of looks. The top trio of shades are ideal for a softer daytime look while the lower trio of shades are deeper and more sultry. I love to just work from all over the palette and use all 5 shades if I can. I can't help but want to use them all!
The 5 looks in the collection each focus on one of the couturier's five favourite colours: Red, grey, pink, black, and blue. Lets take a look at the Dior Fall 2014 Bar Grey Look.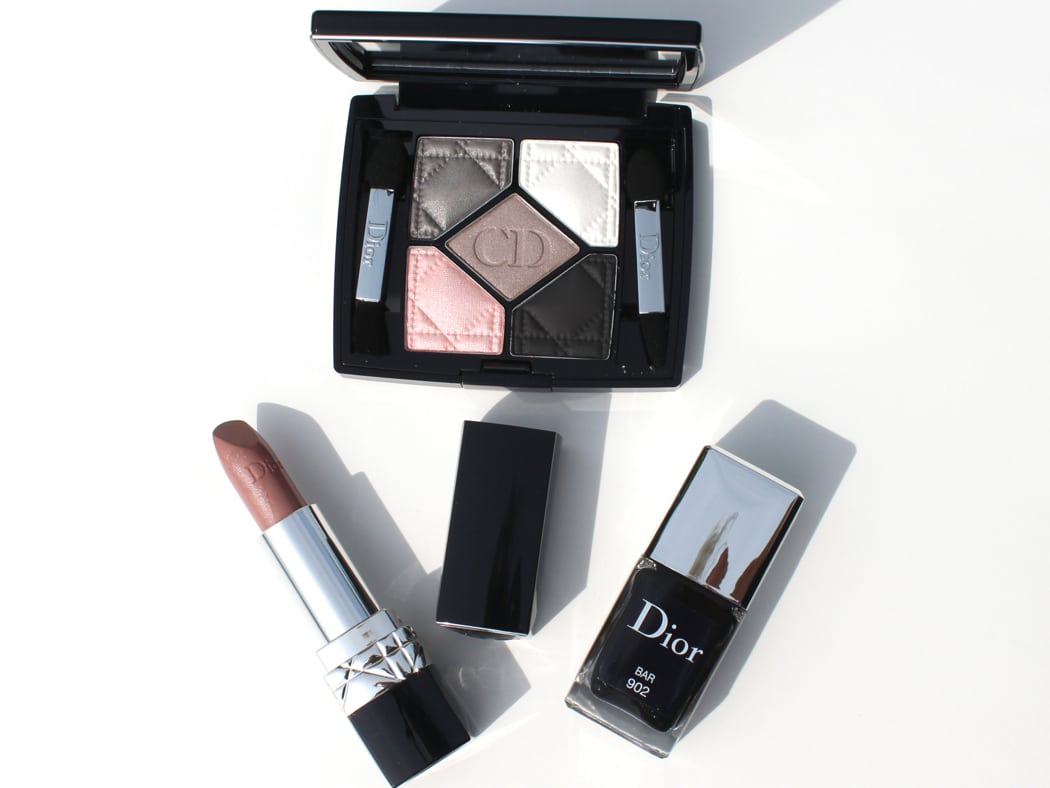 Each look includes a 5 Couleurs Eyeshadow Palette, a Rouge Dior Lipstick, and a Dior Vernis Nail Polish.
Bar Grey
5 Couleurs 056 Bar
Rouge Dior 317 Bar
Dior Vernis 206 Bar
The 5 Couleurs Eyeshadow Palette in 056 Bar is the most neutral palette in the five palette collection. The centre essential shade is an absolutely stunning satin taupe grey.
The shades in the Bar Palette include a shimmering charcoal grey, shimmering white, pearly pink, intense matte black, and a beautiful taupe grey. The pigmentation of the black in this palette is phenomenal. The centre shade has amazing pigmentation as well. The grey and white have good pigmentation and the pink has a more sheer effect but still applies really well. All the shades are really smooth and apply beautifully. I think this is such a versatile palette. Who can go very dark and sultry or more subtle for day. Depending on which shade you choose to create your look around you can achieve a variety of looks with this grouping of shades.
The Rouge Dior Lipstick in Bar is a very unique shade. It is a pale shimmery beige pink that has a subtle grey quality that I couldn't seem to capture in photographs. It has a fabulous sheen and like all Rouge Dior lipsticks it is long wearing, hydrating, and comfortable to wear. One of my favourite lipstick formulas. The Dior Vernis in Bar is a sophisticated black cream. The Dior Vernis are one of my favourite nail polish formulas. They offer perfect opaque coverage in a maximum of two coats and the tapered brush makes application a breeze.
Swatches are Palette top left, top right, bottom left, bottom right, centre. Rouge Dior. Dior Vernis.
I created a quick eye look with the palette using all five shades. A subtle daytime smokey eye.
And here is Bar Rouge Dior in action:
The collection will be available August 1st, 2014.
Product provided for my consideration. All reviews are always my own honest and unbiased opinions.