The Clarins Sunkissed Summer 2017 Collection has me so ready for summer! The tropical, botanical patterns, and shades of bright orange and warm metallics invite thoughts of warm sun and golden sand.
The limited edition Clarins Summer 2017 4 Colour Eyeshadow Palette ($43 US/$45 CAD) is a beautiful combination of sandy beiges and bronze with a pop of orange. The formula is very smooth and is composed of 100% mineral and plant pigments. The satin and shimmer sand shades have a softer pigmentation and the orange and bronze have a richer level of colour. They are incredibly easy to work with and blend together with ease. You may see the orange shade as intimidating but it is actually remarkably effortless to incorporate into your eye look. Thanks to the combination of polyglycerides in the formula the shadows have a lovely smoothing effect on the lids which is welcome on my slightly crepey eyes.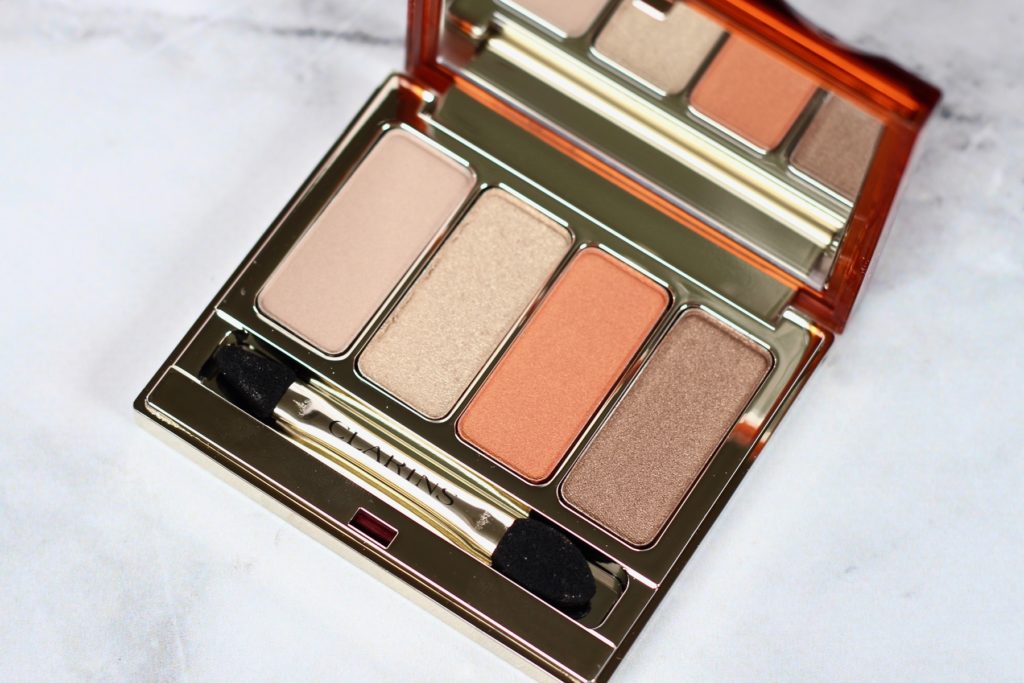 The two eyeliners are so incredibly stunning. The Clarins Waterproof Eye Pencil ($26.50 US/$27 CAD) in 06 Gold and 07 Copper are such beautiful metallic liners. They are ultra creamy and smooth to apply. They require a couple passes for complete opacity. The formula is ideal for use on the lower lashline or lower waterline. I know I will be reaching for these a ton this summer.
The limited edition Clarins Bronzing & Blush Compact ($40 US/$42 CAD) is a covetable bronzer for sure. There are 3 shades of matte bronzer that blend together to create a beautiful neutral bronze hue that looks lovely on my fair skin. While the powder is matte, thanks to the Light Optimizing+ complex it has a gentle radiance on my skin. Below the bronzer shades is an iridescent orange blush shade that can be blended into the bronzer shade to warm in up, or applied individually as a blush. I had no problem isolating that shade with my blush brush. I expected the shade to look a little heinous on my fair skin but it actually looked really nice.
There are also some new limited edition shades of Instant Light Natural Lip Perfector ($20 CAD) in 13 Pink Grapefruit and 14 Juicy Mandarin. Shown is Pink Grapefruit which gives a glossy hint of pink to the lips. They have a sweet citrus fruit scent that is so freakin yummy! It smells so incredibly good.
If you haven't tried the Instant Light Natural Lip Perfectors yet you must. They tinted lip treatment includes extracts of shea butter and wild mango butter to soften and moisturize the lips with a creamy, cushy feel. They are fabulous.
Here's a look featuring all the products.
Is the Clarins Sunkissed Summer 2017 Collection calling your name?
Shop the post: