Oh my goodness I am in TROUBLE. I have developed an all consuming obsession with Charlotte Tilbury cosmetics. I have been a fan of Charlotte Tilbury for years. I can't even remember how I was first introduced to her, but I loved her YouTube videos. When she announced she was coming out with her own cosmetics line I was incredibly excited. I knew she loved high end, luxury products so I was expecting nothing but the best. When the range was first released, but not yet available in Canada, I was so close to ordering from the UK, I NEEDED to try the products. Time passed and I gained a little more control and restraint. Fast forward to June 2015 when Charlotte Tilbury finally arrived in Canada via her website and Holt Renfrew and my urges returned with a vengeance. I convinced myself I didn't "need" to try the products. I mean seriously, I have more makeup than any one person could use in a lifetime. Well I had the opportunity to test out the Charlotte Tilbury The Dolce Vita Look Get The Look Gift Set, along with the coordinating shade of the new Charlotte Tilbury Matte Revolution Lipstick in Bond Girl, and let me tell you, I am officially OBSESSED! I mean hardcore, legit, can't stop thinking about Charlotte Tilbury obsessed. While the fact I need more makeup like a hole in the head remains, I am envisioning culling my beautiful collection to make room for Charlotte's products because I foresee turning to them more than anything in my arsenal. It has been a long time since I have been this smitten.
Now lets get down to business. Be prepared for a lot of images because I couldn't help it. These products are so stunning. Above you see Charlotte Tilbury The Dolce Vita Look Gift Set in all it's beautiful packaging. I love the Rose Gold and Night Crimson colour theme of all her packaging. So luxurious and classy. You can see the new Matte Revolution Lipstick snuck in there as well. How cute that they made the packaging matte to differentiate it from the rest of the collection.
The set comes in a really nice makeup bag. One side is covered in kisses and the Charlotte Tilbury logo in Rose Gold. The other side with a fun quote and Charlotte's signature star in rose gold.
The packaging is lightweight yet sturdy. Some may expect luxury products to have a little more heft to their packaging but I love Charlotte's practical approach. Plus let's just say a big thank you to Charlotte for not including useless applicators in her packaging. Yes!
The Luxury Palette The Dolce Vita Colour-Coded Eyeshadows ($64 CAD) is truly a thing of beauty. Eyeshadows are my makeup drug of choice and the formula and shades of the eyeshadows in this palette are absolutely beyond. I am so in love with this palette. Especially if you have blue eyes you simply need this in your life. Just trust me. Magical!
I consider not wearing an eyeshadow primer blasphemy but of course I had to try these on bare skin. I have heard so much about how vibrant, pigmented, and long lasting the Charlotte Tilbury eyeshadow formula is even without a primer that of course I had to see if it is truth or fantasy. I was not disappointed. I haven't even bothered trying these with a primer or base yet because they excelled so well without one. The shadows are rich and smooth and blend effortlessly all with intense colour true pigment. Just look at these swatches and try not to drool.
I was so excited to see that the glitter shade doesn't look tacky or over the top, but rather sophisticated and eye catching. Ugh so good.
The shades include a glowing peach ivory, deep red brown with a subtle shimmer/pearl, deep warm brown with a satin finish, and a glittering copper.
Another one of my favorite products from the Charlotte Tilbury range is her blushes. The Dolce Vita Look features the Charlotte Tilbury Cheek to Chick Swish & Pop Blusher in Ecstasy ($50 CAD). The formula is creamy smooth powder with a glowing luminous sheen finish. The interior pop shade is a coral pink and the outer swish shade is a warm peachy pink. I found, much to my delight, that Ecstasy was much less peach/orange than it appears in stock photos.
I do try to do the swish and pop technique, applying first the outer swish shade on the cheekbones and the inner pop shade on the apples of the cheeks. You can't really stay strictly to one shade or another unless you are quite careful but the shades look so gorgeous blended together I don't worry about overlap.
I love that this blush glows without looking glittery or shimmery.
Natural, soft toned lip pencils that work for my fair skin have become a bit of a "thing" for me lately. I'm always on the hunt for the right shades, (why does it seem so hard to find lip liners that aren't too dark on fair skin?), and plan on doing a roundup for you soon. I'm happy to have discovered a new favorite in the Charlotte Tilbury Lip Cheat Re-shape & Re-size Lip Liner in Pillow Talk ($ CAD). It is a beautiful natural warm pink that is close to my natural lip colour and has gone immediately into my regular rotation. I love that it makes the Penelope Pink lipstick just a little more pink as well. I definitely want more of these lip liners because they have a creamy texture that glides on with ease and lasts for hours.
I find myself gravitating to more nude lip shades most of the time and leaving the focus to the eyes. If you know me in real life you probably see me wearing that kind of look most of the time. While I adore colour I find myself feeling just a little too bashful about too much colour on my lips. I know I need to live a little but hey we love what we love. The Charlotte Tilbury K.I.S.S.I.N.G Fallen From the Lipstick Tree Lipstick in Penelope Pink ($38 CAD) is an incredibly flattering soft nude pink. I find it can pull a little warm on me but the Pillow Cheat lipliner keeps it behaving and looking perfectly pink on me. The lipstick has a creamy moisturizing texture but isn't so creamy that it feels like it's sliding all over the place. I love that it is creamy yet "dry" enough to stay put and last.
The Charlotte Tilbury Lip Lustre Luxe Colour-Lasting Lip Lacquer in Seduction ($28 CAD) is a nude beige gloss with enough pigment to be worn along for a soft nude look. The formula is kind of between a gloss and a lacquer. Nice pigment and thicker formula for good coverage and longer wear with a glossy sheen. The formula isn't sticky.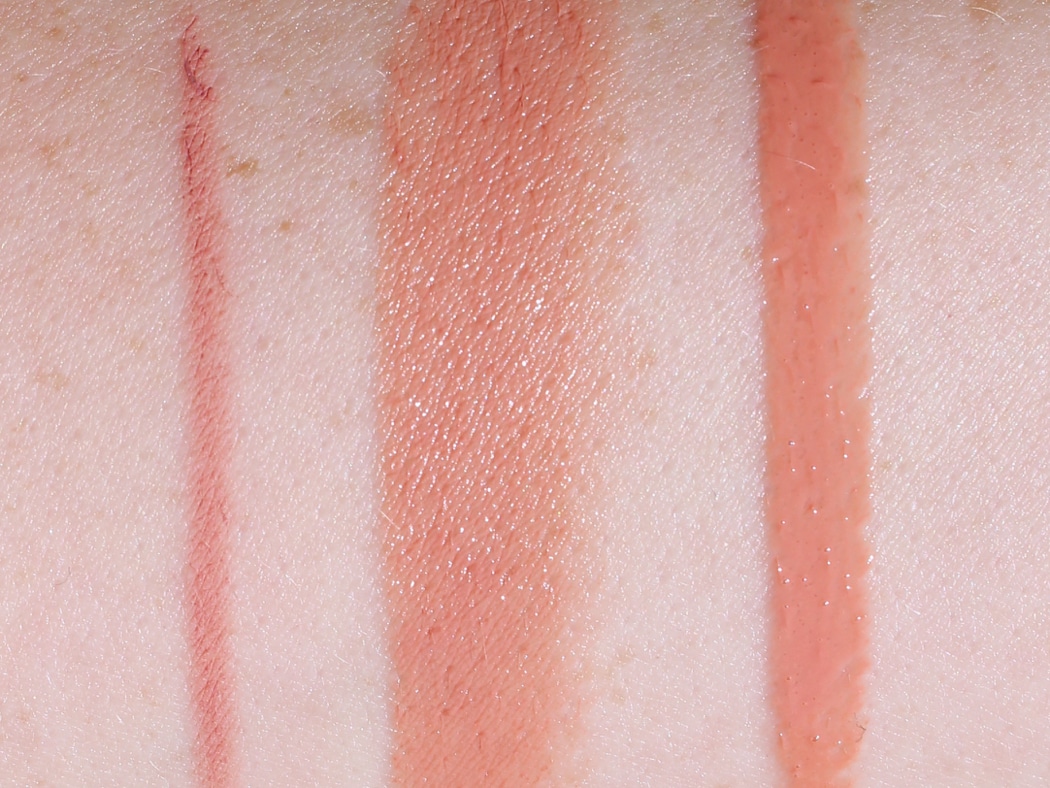 I was expecting the Charlotte Tilbury Full Fat Lashes 5 Star Mascara in Glossy Black ($34 CAD) to be full out volume but was pleased to find this is a really nice everyday mascara formula for me. It has a "traditional" style wand (which is usually my preference) and gives a good amount of length, volume, and separation without going overboard in any one category. It is comforable and soft to wear and didn't flake or smudge on me. You can build it up nicely for more impact.
One of Charlotte's signature looks is her feline flick so of course she had to release the Charlotte Tilbury The Feline Flick Quick Fine Line Shodo Pen in Panther ($35 CAD). This liquid liner with a felt tip applicator creates both fine and more impactful lines well. I didn't include it in my Dolce Vita look because liquid liners don't flatter my hooded, and rather crepey :(, eyes. The finish is a very strong glossy black and I think liquid liner fans are sure to love this.
Charlotte Tilbury's latest product launch is the new Charlotte Tilbury Matte Revolution Lipstick. I have been testing out the shade Bond Girl. These are a very unique matte lipstick formula and I am surprised to say I love it. I am not usually a fan of matte lipsticks. This formula is really cool. The finish is matte yet your lips seem to glow and look plump and healthy. I mean glow, plump, and healthy? How often can we say that about a matte lipstick? Bond Girl isn't completely opaque but can be built up to be. The shape of the bullet is designed to make application precise and it works really well. I found these really comfortable and moisturizing to wear. Bond Girl is quite a bold colour for me as well but the formula makes it so flattering that I really like it. I may just have to check out more shades!
I wanted to show you how easy it is to take these looks from day to night. The eyeshadow palettes are all arranged with a Prime shade (top left) and Enhance shade (top right) shade on the top and a Smoke shade (bottom right) and Pop shade (bottom left) on the bottom. This takes all the work out of figuring out how to best utilize the shades.
For the day look I used all the product in The Dolce Vita Look set with the exception of the Feline Flick liner and Seduction gloss. On the eyes I used just the Prime and Enhance shades. On the lips I used Pillow Talk and Penelope Pink.
A quick way to take the look from day to night is to switch out Penelope Pink lipstick for the new Matte Revolution Lipstick in Bond Girl. Boom! You're done.
Another way to take the look from day to evening is to add a bit of Seduction gloss on top of Penelope lipstick and add in the Smoke and Pop shades on the eyes. Add another coat of mascara and you're ready to go. I am passionately in love with this look. I can't believe what it does for blue eyes. Love! Love! Love!
What are your favorite Charlotte Tilbury products? What would you recommend I try next? I want it all so help me narrow it down a little!
Shop the post:
Product provided for my consideration. All reviews are always my own honest and unbiased opinions.