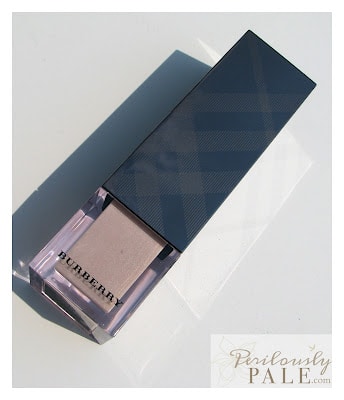 The Burberry Beauty Fresh Glow Luminous Fluid Base is a glorious bottle of heaven. I am in love with this primer! The super fine beige pink toned shimmer contained in this beautiful bottle makes the skin come alive. There is never any indication of shimmer on your skin. The pearlized fluid simply gives your skin a radiant glow. It makes my dry, dull skin look fresh under my foundation.
Besides using this as a primer you could also mix some of it with your foundation to give it more of a dewy, luminous finish. It can also be touched on the high points of the face as a highlighter. The shimmer is very refined in this fluid product so the effect is subtle but when it comes to highlighters a lot of times subtlety is my goal.
The Burberry Fresh Glow Luminous Fluid Base is so lightweight you can't feel it on your skin at all. It is such a joy to use. I am so pleased I opted to make this one of my first products to try from the Burberry Beauty line.
Blended all the way in. See! No visible shimmer. Just healthy skin.
Burberry is available in Canada at select Holt Renfrew counters. In the US you can find it at Nordstrom, and Saks Fifth Avenue. In the UK it is available at Harrod's.